CELPIP vs. IELTS
What are the differences? Learn why CELPIP is better for you
Start improving your grades today.
Send a Message
Start improving your grades today.
Officialy recognized by the Canadian Immigration Service
Simpler exam questions, easier to receive high scores! Shorter test period to help you quickly reach a satisfactory score!
Why Do I Need IELTS?
Immigration requirements: Canadian immigration requires officially recognized language test scores. A better score improves your immigration application. Many students will need an IELTS-G 8777 score.
University application: To apply for a Canadian university, you need to provide language test scores recognized by Canadian universities and institutions. Generally, a score of 6-8 in IELTS-A is required.
Why Choose CELPIP?
Computer-based test format, writing with spelling and word counter, spoken language without the embarrassment of facing real examiners
Canadian accents are used for listening components, topics pertain to Canadian culture and traditions, and questions for listening and reading are multiple-choice
The entire exam can be done in 2 hours in one sitting and is completely computerized

VS

Reading

IELTS Reading
Uses a wide range of subjects and complex vocabulary. The questions are difficult to answer in a short amount of time.
CELPIP Reading
The topics and vocabulary is simple. Questions are multiple-choice and straightforward.
Writing

IELTS Writing
Requires you to write a short composition and a long response. It must be hand-written so students must pay attention to their grammar and spelling.
CELPIP Writing
Both responses only need 150 words. Candidates type on a computer and use the built-in spell checker and word counter.
Listening

IELTS Listening
Recordings use a variety of international accents that can be difficult to understand. Responses include fill-in-the-blank and misspellings can make you lose marks.
CELPIP Listening
All recordings are done with a standard Canadian accent. Questions are multiple-choice and straightforward.
Speaking

IELTS Speaking
Candidates must speak directly to an examiner and can be easily affected by the examiner's expression and attitude.
CELPIP Speaking
Questions are standardized and can be easily prepared. Candidates speak into a microphone and do not face an examiner.
Why the CELPIP Exam is the better choice
Low exam fees: The CELPIP exam fee is lower than the IELTS exam fee
Short test cycle: There are tests every 5, 6 and 7 every week, and students can sign up at any time
Fast results: You can get your results within 4 working days after the test
Want to know more information and preparation tips about the CELPIP exam? Hurry and contact the most professional consulting and training team of CELPIP Test Prep! Through the training of CELPIP Test Prep, our students on average will improve by +1 point. Let our professional consulting and training team help you improve your English quickly and get your ideal score! Easily start your successful immigration today!
Not used to CELPIP's computerized test? Still want to take IELTS?
IELTS Test Prep will be your best choice!
The most direct class for IELTS A/G. Register for 3 sessions, and you can enjoy:
Unlimited renewal at ultra-low membership price
IELTS & CELPIP course interoperability
Suitable for long-term students and those who wish to try IELTS and CELPIP at the same time.
No risk, no conditions, no restrictions. Whether it is IELTS or CELPIP, we can help you succeed!
More Test Resources for You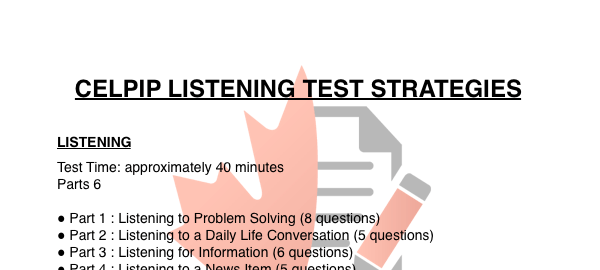 We provide exclusive in-house CELPIP sample tests for students and workshops with official partners. The official CELPIP website provides paid materials and workshops but does not offer 1-on-1 teaching. Materials are often in English, which can be stressful for beginner students. CELPIP Test Prep provides Chinese resources for stress-free learning.
Register for Our Exclusive Resources Learn More About CELPIP
Frequently Asked Questions about the CELPIP vs IELTS
Compared with IELTS, CELPIP has the following advantages:
The CELPIP exam is new, and the difficulty of the exam is relatively low. All the questions are multiple-choice, which eliminates the loss of scores caused by misspellings in the IELTS test. Moreover, a single question type makes the difficulty of the examination questions lower. CELPIP's listening portion uses Canadian accents, rather than international accents such as in the IELTS test, which helps reduce test takers' stress. The word count of the writing questions written for CELPIP is 150 words each, which is equivalent to two essays for IELTS. CELPIP test takers can also utilize the word counter and spelling error check while writing. Finally, CELPIP's oral questions are fixed. After the candidates have mastered the rules and skills of the question types, they are more familiar with the recording of the computer-based test. Learn more about the differences here.
Yes, we offer IELTS tutoring from professional and certified IELTS instructors. We provide two classes - an online training class designed for 1-on-1 instruction between student and instructor, and an online group class. In a group setting, students will learn more about the main points and difficulties encountered during the exam and instructors will focus on whether test-takers can use English logically and accurately.
We recommend students who fail either exam to take our guaranteed class, which will ensure you will pass the exam with your desired marks. We encourage students to keep up with their studies and practice and actively participate in class to be able to achieve the scores that they aim for.
Both our CELPIP and IELTS classes are four weeks long. Please refer to our CELPIP Classes and IELTS Classes pages for more information.
When taken in Canada, CELPIP costs around $280, whereas IELTS costs around $310.
If you seek a CLB 7+, it may be easier to score higher on a longer exam like IELTS than CELPIP. To score CLB 7+ on CELPIP requires you to score nearly perfect in every category, whereas in ILETS, there is slightly more room for error because the exam is longer and the writing and speaking sections require more information. IELTS is often recognized across post-secondary institutions to test immigrants' English proficiency.
The grading criteria for both IELTS and CELPIP are nearly identical, in that both exams assess the test-takers' English proficiency and mastery over the language. Whereas half of the CELPIP exam's grading is computerized because of the multiple-choice questions and only the writing and speaking sections are assessed by markers, IELTS markers use detailed descriptions of band scores to mark the entire exams.
You can find testing centres for both exams on their official websites to find exam dates and locations. You will need to travel to the testing centre to write the exam; neither of them can be done online or at home.
I have improved my CELPIP writing and speaking a lot by participating in the sprint class of CELPIP. The skills and sentence patterns guided by the teacher are very helpful! Thank you for your professional guidance!

Sherry CELPIP Test Prep Student
After 4 weeks, I established solid test skills in listening, speaking, reading, and writing, and I am confident in the CELPIP exam. It is highly recommended to friends who must prepare for the exam within a limited time. Thank you for your professional CELPIP exam preparation.

Nicky CELPIP Test Prep Student
Teacher Alan is really a good teacher! After taking a few classes of his, I have mastered the solid CELPIP exam skills, which makes me full of confidence in this exam. Thanks again for the professional courses and services.

Wang CELPIP Test Prep Student