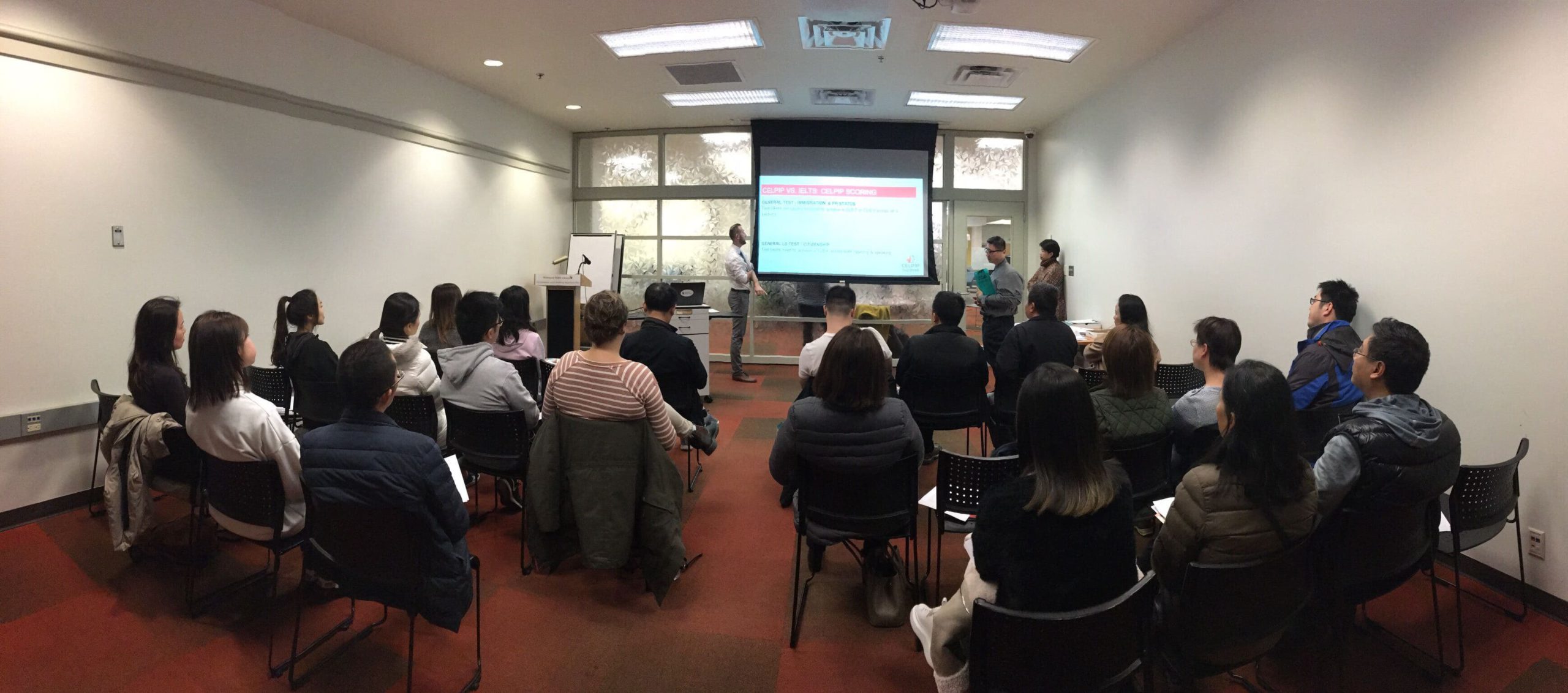 CELPIP Preparation
Need CELPIP test preparation? Learn secrets to help you with your CELPIP Listening Test, CELPIP Reading, CELPIP Speaking, and more!
Start improving your grades today.
Send a Message
Start improving your grades today.
Get a FREE sample test!
Sign up to get email updates on the CELPIP Exam and a free test sample of your choice

On Sale

Books
choosed celpip books

Practice Tests
mock tests

Packages
Class + books + test
Tips to help you achieve a perfect score
CELPIP Listening Skills
The part where CELPIP's victory over IELTS is in the listening test. The reason is that CELPIP only has 38 multiple-choice questions, and IELTS has not only multiple-choice questions, but also fill-in-the-blank questions. If the candidate lacks spelling skills, IELTS listening will be a fatal blow. On the contrary, CELPIP can help you cover up your weaknesses, and these skills will definitely improve your scores in the short term. Our instructors will teach you techniques to understand questions quickly, which will immediately improve your score by 1-2 points. Don't underestimate these 1-2 points, because even just one point will be enough to decide whether your immigration is successful or not.
CELPIP Speaking Skills
There are usually two types of candidates in the examination room of the oral test: one type of student is usually able to answer in English, but when they see the examiner, their tongues become knotted, they are hesitant, and their brains are blank. Another type of test taker is lack of vocabulary, poor sentence structure, and the spoken content is lackluster. In the end, this is the section that most candidates struggle with, ultimately costing you the exam. Let CELPIP Test Prep help you prepare so you can succeed with flying colors!
CELPIP Writing Skills
There are two main parts of CELPIP's writing-the first part is to write an email, and the second part is to respond to the questionnaire- choosing one of the two options as your argument and discuss it. First of all, the word count for the two IELTS essays are 150 and 250 words respectively. The number of words required for each question in CELPIP's writing is 150-200 words, which is only equivalent to writing two IELTS essays. For some candidates who often complain about not being able to finish IELTS composition, CELPIP is undoubtedly the best choice. In addition, because the whole process of CELPIP is a computer-based test, the writing part will provide spell check and word count. This is a great advantage for time control.
CELPIP Structure and Grading
Listening
50 mins.

6 parts: 38 multiple choice questions
Reading
60 mins.

4 parts: 38 multiple choice questions
Writing
55 mins.

2 parts: 2 questions
Speaking
20 mins.

8 parts: 8 questions
More Test Resources for You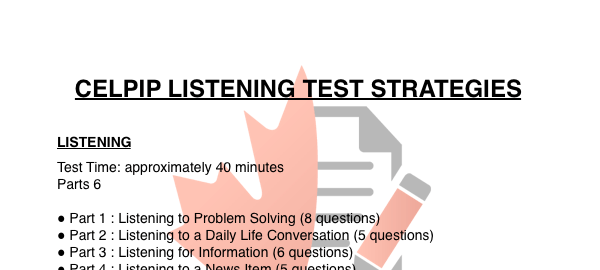 We provide exclusive in-house CELPIP sample tests for students and workshops with official partners. The official CELPIP website provides paid materials and workshops but does not offer 1-on-1 teaching. Materials are often in English, which can be stressful for beginner students. CELPIP Test Prep provides Chinese resources for stress-free learning.
Frequently Asked Questions about CELPIP Tips and Tricks
The writing section for CELPIP is online and provides a word counter and spell check. There is no grammar check, so test-takers must be aware that they are using grammar properly.
The official CELPIP website has plenty of free resources for test takers to download and practice. Test-takers can also purchase additional practice tests and attend workshops taught by CELPIP officials. CELPIP Test Prep provides these practice tests and in-house materials to students, as well as Chinese translations. Please refer to CELPIP Test Bank for more information about these resources.
Students may enroll in supplementary 1-on-1 sessions with your CELPIP instructor to focus on areas that you struggle with or require more practice with. Private sessions are best to focus on specific issues, whereas in a class setting, it is more difficult to address individual needs.
CELPIP Test Prep is officially recognized by Paragon to be a certified CELPIP learning center. Our teachers are CELPIP certified and our curriculum is constructed using their expertise to help students achieve their own desired scores.
Your accent will not affect your speech, so long you articulate yourself and speak clearly into your microphone.
The exam is conducted entirely on a computer in a testing centre. Questions for reading and listening are exclusively multiple choice, and there are 2 sections for writing, and 8 sections for speaking. Refer to the CELPIP exam structure for further clarification on what to expect for each section.
We developed these tips and tricks after years of analyzing CELPIP exam trends, speaking with test-takers about their experiences, and collaborating with CELPIP officials. These tips and tricks are guaranteed to help you achieve your desired score.
CELPIP Test Prep's classes are guaranteed to add +1 to all your test scores, so long students diligently practice and regularly attend our classes. We offer a variety of classes to match students together who are at the same level or striving for a higher score. We also provide 1-on-1 private tutoring with CELPIP teachers to match your schedule and needs.
I have improved my CELPIP writing and speaking a lot by participating in the sprint class of CELPIP. The skills and sentence patterns guided by the teacher are very helpful! Thank you for your professional guidance!

Sherry CELPIP Test Prep Student
After 4 weeks, I established solid test skills in listening, speaking, reading, and writing, and I am confident in the CELPIP exam. It is highly recommended to friends who must prepare for the exam within a limited time. Thank you for your professional CELPIP exam preparation.

Nicky CELPIP Test Prep Student
Teacher Alan is really a good teacher! After taking a few classes of his, I have mastered the solid CELPIP exam skills, which makes me full of confidence in this exam. Thanks again for the professional courses and services.

Wang CELPIP Test Prep Student