CELPIP Tips and Tricks
Do you feel the pressure for a high CELPIP score? How fast can you reach a CELPIP score of 7777? Let us teach you how to break through a CELPIP score of 9 points in ten days!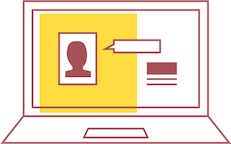 Learn from home, online!
Years of experience with online learning • A reputation for student success across Canada • Locally trained, Canadian English teachers
How to reach CELPIP 9 points or even CELPIP's full marks?
Sections:

6

Questions:

38

Duration:

~50m
CELPIP Listening Skills
---
The part where CELPIP's victory over IELTS is in the listening test. The reason is that CELPIP only has 38 multiple-choice questions, and IELTS has not only multiple-choice questions, but also annoying multiple-choice questions and annoying fill-in-the-blank questions. If the candidate lacks spelling skills, IELTS listening will be a fatal blow. On the contrary, CELPIP can help you cover up your ugliness, and the skills will definitely improve your scores in the short term. In the next minute, we will teach you a question answering technique that will allow you to open the test and immediately improve your score by 1-2 points. Don't underestimate these 1-2 points, because even just one point will be enough to decide Whether your immigration is successful or not.
Questions:

6

Preparing:

30-60s

Answering:

60-90s
CELPIP Speaking Skills
---
There are usually two types of candidates in the examination room of the oral test: one type of student is usually able to answer in English, but when they see the examiner, their tongues are knotted, hesitated, and their brains are blank. After the test is over, it's not that you forget what you just said , Or it's upset about the simple mistakes I made. Another type of test taker is lack of vocabulary, poor sentence structure, and the content of what is said is lackluster. In the end, they come back with a feather and can only register for the next exam obediently. If you are one of the candidates, add Sipai to save you.
Sections:

2

Duration:

~56m
CELPIP writing skills
---
There are two main parts of CELPIP's writing-the first part is to write an email, and the second part is to respond to the questionnaire-that is, choose one of the two options as your argument and discuss it. First of all, the word count for the two IELTS essays are 150 and 250 words respectively. The number of words required for each question in CELPIP's writing is 150-200 words, which is only equivalent to writing two IELTS essays. For some candidates who often complain about not being able to finish IELTS composition, CELPIP is undoubtedly the best choice. In addition, because the whole process of CELPIP is a computer-based test, the writing part will provide spell check and word count. This is a great advantage for time control.