CAEL Preparation Course
Get CAEL Listening practice, CAEL Reading tips, CAEL Vocabulary, and CAEL Writing Tips
Get the CAEL Test Results You Need
CAEL Elite Class
The elite class is dedicated to tackling more difficult material, learning hidden tips and tricks to earn higher points in individual sections, and imporiving writing, listening, and speaking skills to achieve advanced comprehension. This class is recommended for students who want to score 70+ and seek to improve.

Online Only
This class is recommended for those at CLB7+ (CAEL Score 70+)
Spaces currently available: Register Now
CAEL Sprint Class
This class is dedicated to students who have learned the foundations of English and are beginning to prepare for the CAEL exam or need guidance on becoming familiar with the exam format. Students do not need to have any experience with CAEL to enroll in this class.

Online Only
This class is recommended for those at CLB 4-7 (CAEL Score 40 - 70)
Spaces currently available: Register Now
CELPIP 1-to-1
If you prefer studying alone or in a private setting, our instructors are available for personal tutoring. Sessions can last from 1 to 2 and a half hours and are scheduled to accommodate the student. You and your instructor will construct a personalized learning plan that will help you succeed at the pace that you desire. Students may engage in private lessons for supplementary help, specific issues regarding writing, listening, or speaking, or additional practice.

Online Only
Customizable class times to fit your schedule and needs
Available for any CLB / CAEL level
Spaces currently available Register Now
Learn Online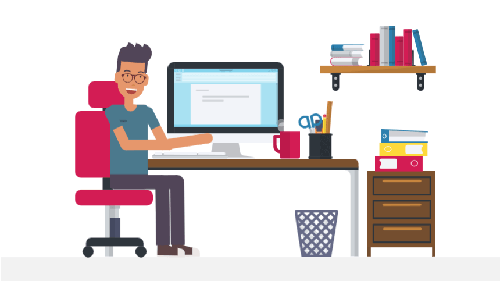 Study in a comfortable and familiar setting.
Save time from commuting if you are out of the city or province.
Engage in classwork in real-time.
Receive the same content as you would in class.
Use your personal devices to access lessons.
CAEL Grading
The CELPIP exam consists of 4 components (with writing split into 2), with a maximum band score of 90 points each component.
Speaking
7-10 mins.

Reply to on-screen prompts verbally
Integrated Reading
35-50 mins.

Read passages and answer questions
Integrated Listening
25-35 mins.

Listen to passages and answer questions
Academic Unit A
60-70 mins.

Answer comphrehension questions and write a reply
Academic Unit B
40-45 mins.

Answer comphrehension questions and write a reply
Frequently Asked Questions about CAEL Test Prep Classes
The CAEL exam is new, and the difficulty of the exam is relatively low. CAEL is strictly focused on Canadian post-secondary topics and scenarios that you would find in a university or other institution. IELTS is more focused on general English comprehension and tests your technical English skills instead of social awareness and understanding of a Canadian learning environment. We recommend CAEL for students who hope to study in Canada to receive a better impression of how education is like and what to expect.
After you've signed up, you will receive an email with a link that also includes the date and time. You will need to enter the course about 30 minutes prior to ensure that your microphone and video camera are working. Once the instructor has confirmed that all students are present, the class will begin. When finished, you can exit by closing the window.
No need to worry - even if the teacher cannot see or hear you, so long you are able to hear the teacher, you will be able to participate in the class. There is also a chat function for you to type inquiries or comments.
CAEL Test Prep is officially recognized by Paragon to be a certified CAEL learning center. Our teachers are CAEL certified and our curriculum is constructed using their expertise to help students achieve their own desired scores.
Our classes will guarantee a +10 score to your current test results, so long students diligently attend our classes and practice. If students do not achieve their +10 increase, they may take our classes indefinitely until this is achieved. However, we advise students not to only rely on our guaranteed class and take initiative in their own education to achieve your desired results with professional guidance.
Before the course begins, all students will take an assessment to assess their English proficiency. Our teachers will place you in the right class if your level is too low or high for the class. If, any point during the course that the material is too easy or difficult for you, your teacher will move you accordingly.
As classes are taught in a group setting, our teachers will not be able to accommodate for individual student absences. However, students are free to book 1-on-1 sessions with their teacher for additional help or to review past materials.
Our prices are fixed; however, there are occasional promotions, so please stay in touch with us to learn more about these sales! We also give preferential prices to students who recommend new students, so please spread the word about our services to your friends who may need them!
I had lots of CAEL practice tests to help me prepare. I also got a lot of CAEL study materials and finished the exam. Thank you for your help!

Yinxing L.
The CAEL test was easy after I practiced CAEL writing and took sample tests. The tutors were very helpful. I also learned CAEL test tips I recommend the class.

Abigail P.
CAEL preparation course helped me become more confident and the CAEL writing topics. I learned a lot of CAEL vocabulary and speaking topics. It was a very helpful class!

Terry W.