Why CELPIP Test Prep
We are a Certified Tutoring Centre
We're affiliated with Paragon Testing Centre, which means our materials and teaching strategies directly reflect the CELPIP exam. We have analyzed past exams to find trends, themes, and common features to help you prepare and become confident when writing your own exam.
Take One Step Closer to Canadian Citizenship
CELPIP Test Prep will help you achieve your desired goals.
Write practice tests to understand CELPIP exam structure and topics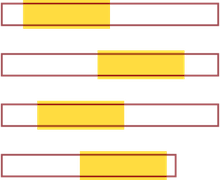 Learn from CELPIP-certified instructors in either English or Chinese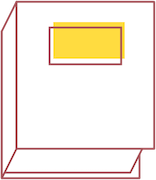 Get plenty of practice with in-house material and improve your writing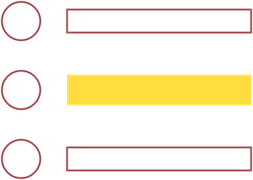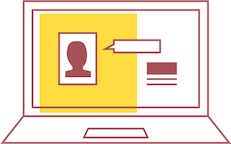 Learn from home, online!
Years of experience with online learning • A reputation for student success across Canada • Locally trained, Canadian English teachers
Which Test is Better for You?
CELPIP
Canadian material and topics
100% computerized
Genuine North American accent
Shorter writing topics
Multiple choice for all questions
Can be completed all in one sitting
VS.
IELTS
For international candidates
Exam is all handwritten
The speaking portion is done face-to-face
Uses accents from around the world
Longer writing topics
Unpredictable exam format
A CELPIP experience just like yours
Our exclusive curriculum is developed by our professional CELPIP-certified instructors. Each instructor carries out their classes using their own teaching experience, unique skills, and knowledge to help their students achieve their goals.
Don't live in Vancouver, BC? Our classes are offered both online and in-person. Our help is accessible from around the globe!
Student Success
Alice Y.
7 8 7 7
Grade
CELPIP - General
Alice recently immigrated to Toronto and needed help preparing for her CELPIP exam. Through our online tutoring, her English proficiency significantly improved. She passed the CELPIP exam with the score required for immigration and her application is now in progress. Congratulations!
Test Prep:
Before
After
Listening
6
7 

(+1)

Reading
5
8 

(+3)

Writing
6
7 

(+1)

Speaking
5
7 

(+2)
Learn From the Comfort of Your Own Home
If you live outside of British Columbia, we have online group classes taught in real-time. All you need is an Internet connection, computer or smartphone, and an eagerness to learn.
If you prefer one-on-one classes, our instructors are also available for private tutoring. You will work closely with your instructor to create a personalized lesson plan designed to accommodate your way of learning and what you'd like to focus on. All of our instructors are open to questions and comments at any time!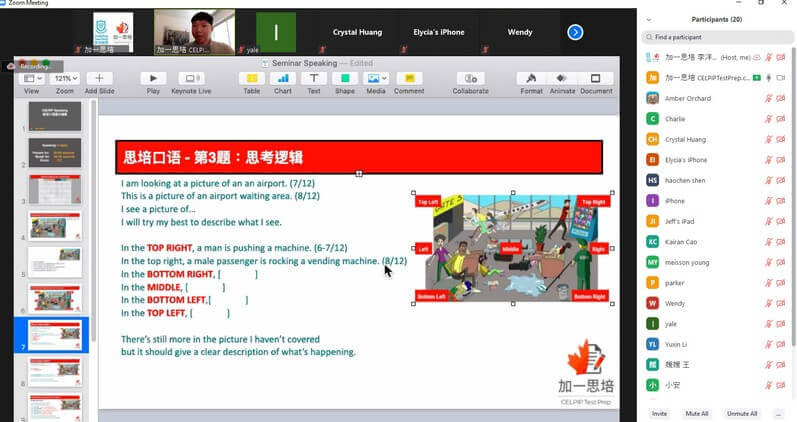 About CELPIP Test Prep
CELPIP Test Prep is the only CELPIP affiliate that is officially certified to provide multilingual teaching services in Chinese and English. We are also one of the earliest tutoring centres in Canada to offer CELPIP assistance and services.
We do not incorporate materials or testing methods from other language proficiency exams; our primary concern is CELPIP. Our instructors are professional educators with formal CELPIP training and experience. Furthermore, our curriculum is developed with CELPIP trends and structures in mind, and is constantly being revised to stay updated so students will not be caught by surprise.
Our services are available both online and in-person so that you can learn anywhere at any time. Our onsite classroom mimics the CELPIP exam situation to help you enter the right mindset needed for the actual exam. Studies have shown that by studying in a similar room to where your exam is, you will retain more information due to the similar atmosphere.
CELPIP became one of Canada's official language exams in 2005. Since its inauguration, our team has analyzed the exams and practice material, collecting data and conducting research to create original content designed to help students familiarize themselves with the exam format and content. Our instructors are deeply involved in the content-making process, so they are able to teach students the necessary tips and tricks to boost their confidence and pass CELPIP with ease.
CELPIP Test Prep has helped over 5,000 students pass the CELPIP exam. We are affiliated with more than 300 educational institutions internationally and over 60 agencies across Canada. We encourage you to seek guidance when studying for your CELPIP exam. Let our instructors help you prepare by offering practice tests, advice and suggestions for improvement, and getting you to where you need to be as efficiently as possible. CELPIP Test Prep is guaranteed to help you succeed. We look forward to seeing you!