Succeed

at CELPIP

Exams can be terrifying, especially if it's in a language that you're unfamiliar with. You may feel unprepared despite studying and practicing. Don't worry - CELPIP Test Prep has several tips for you that will help you before, during, and after the exam, as well as some strategies to keep in mind.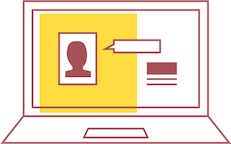 Learn from home, online!
Years of experience with online learning • A reputation for student success across Canada • Locally trained, Canadian English teachers
Before the Exam
Prepare all the necessary documents that you will need. This includes valid, unexpired photo identification used to register for the exam (we recommend using your passport), and a copy of your test confirmation email. Store these in a folder for easy access.
Arrive at the testing center 45 minutes early so that you can be checked in. Use the washroom beforehand because you will not be able to leave the testing site unescorted. Do not bring valuables with you because only your ID is allowed.
Ensure that you had a sufficient amount of sleep the night before and an energizing meal beforehand. This will give your brain the energy needed to function properly and help you stay alert!
During the Exam
When you have entered the testing room, you will be brought to a computer and given some paper and a pen. You can use these papers to take notes, write drafts, or create outlines for any of the questions. You may request for more if needed.
You will not be the only test taker in the room! This means you will hear other people typing or speaking. You can use your provided headset as a way to muffle the sounds.
The time limit is three hours. You may need more or less of the allotted time depending on your reading and answering speed. Be sure to pace yourself accordingly and give yourself more time on sections that you may have trouble with. The key is not to be the first one to finish; the objective is to have a completed exam that you are confident about.
After the Exam
Once you've finished the exam, you will need to return your pen and paper to the test invigilators.
Take some time after leaving the test center reflecting on how you perceive your own performance. Was there anything you wished you could've done differently? Was there a section that was your weakest? Which questions did you struggle with? Was it because of the wording or because you didn't understand it?
Celebrate! Relax and unwind with a nice meal. Congratulations - you finished a physically and mentally challenging exam. Your results will be available on CELPIP's website 4 to 5 calendar days after you have taken the exam.
CELPIP Test Strategies
Time is of the essence.
Each question has a time limit. This is to ensure that the test taker will be able to complete the exam within the allotted time. If you don't answer the question before time is up, the exam will automatically move to the next one. This is not meant to put pressure on you, but rather to remind you that there is more to the exam than the question you're working on.
You'll need to be careful when it comes to the speaking section. Each question gives you 30 seconds to prepare before the recording begins automatically. If there is any delay between the start of the recording, marks will be deducted. It is important to have every question answered, regardless of if it's correct or not. It is better to guess than to leave a question blank.
Use your pen and paper.
You will only hear each question and audio segment once in the listening section, and remembering everything will be difficult, even for a seasoned English speaker! Use your paper to take notes like keywords or phrases, or your own impressions of the audio so that you won't forget the main points. You may also use it to create outlines or jot notes down for the writing section to remind you on what you have to write in your response.
If you're unsure how to effectively take notes, simply ask yourself: what is the main idea? What is happening? Summarize the section in one sentence or less, and then break it down further into smaller components.
Quality, not quantity.
Although the writing section is much simpler for CELPIP than IELTS, the scoring requirements are incomparable. Each writing section has a word limit of 150 - 200 words, and it is recommended that test takers do not go over 5% of the minimum or maximum. It is imperative to follow the written structure appropriate for the question and follow the criteria provided.
Do not aim to use all 200 words. Focus your attention on being concise, expressing yourself with the fewest words possible, and be specific. If you are struggling with this, be sure to outline everything on paper before you start writing.
Speak like a normal conversation.
It is common for test takers to hear other candidates during their responses for the speaking section. To ensure that the evaluators can hear you, be sure to speak in a clear, measured voice - meaning not too slow or too fast. Your response will be delivered through a headset with an attached microphone, so make sure to test it for clarity before you begin recording your responses.
CELPIP is not the same as IELTS.
Many believe that IELTS and CELPIP are similar and they can use their IELTS knowledge to apply to the CELPIP exam. This is not true! Both have different testing structures - IELTS is divided into written and oral tests, whereas CELPIP is exclusively computer-based. The content that both exams use are varied and the criteria for each answer is also different. In order to succeed in the CELPIP exam, you will need CELPIP-specific skills. Think of it as driving a car - playing a simulated game is not the same as driving in real life!
Additional Tips
Listening
Parts: 6
Q's: 38
Time: ~50m
Reading
Parts: 4
Q's: 38
Time: ~57m
Writing
Parts: 2
Time: ~56m
Speaking
Parts: 8
Prep: 30-60s
Time: 60-90s